In recent blogs, we have discussed ways to improve your inventory management operation and reduce costs by first, defining your total cost of inventory management, second, identifying and quantifying improvement opportunities, and third, implementing those changes. In all this, the key ingredient to success is quality data; more specifically, a standardized master catalog.
So, what is a standardized master catalog anyway and why is it so important? To answer the first question here is how PM2 defines a standardized master catalog:
A standardized master catalog is the centralized repository of all the materials management data that a company owns which is utilized to fuel the company's inventory management and procurement platform.
Now let's take a look at the valuable things that are born out of a standardized master catalog of all materials management data. They are;
A standardized inventory database
A streamlined purchasing database
A complete print catalog database
A high quality e-procurement database
A sales database
Today, we will explore the value of having a standardized inventory database.
Operationally, one the most important things that you can do to enable cost savings and streamline your daily efforts, is to invest in a standardized inventory database.
With a standardized inventory database, a company can:
Reduce item "look up" time
Enable inventory sharing across the enterprise
Eliminate item duplications
Reduce on-hand inventory investment costs
Streamline inventory management projects
But, how do you build quality content into your master data in order to get quality inventory data back out of it?  We suggest the following data scheme to help drive consistency and richness into your data: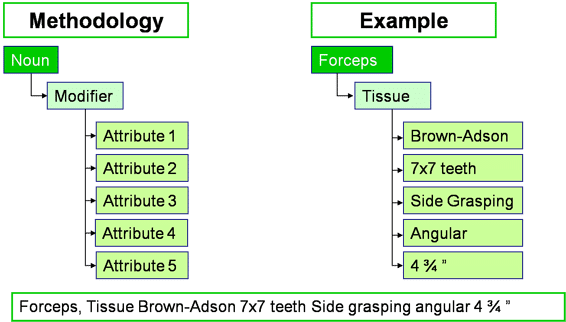 In order to drive consistency and richness into your data, it is very important that your database development people have a high degree of product knowledge. When in doubt, call in the experts. PM2 builds high quality standardized inventory databases for a living.
As always, if you have questions or need help, Professional Materials Management (PM2) stands ready to assist. Give us a call at (813) 249-0834 or visit us at www.PM2online.com.