PM2 Control Center CMMS Software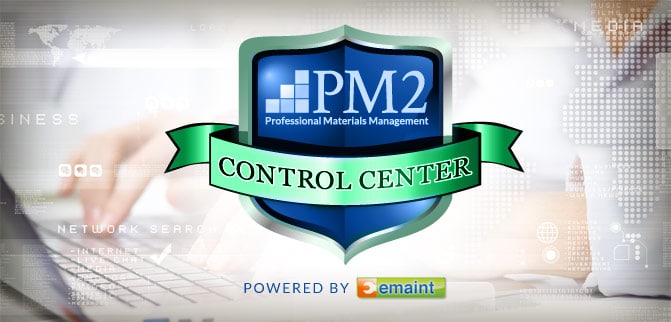 Professional Materials Management (PM2) has spent the past twelve years helping customers look at their inventory in new and innovative ways, pointing out and implementing the things that make their inventory work for them, rather than against them. Along those same lines, we are pleased to announce our newest offering, PM2 Control Center.
PM2 Control Center harnesses the power of eMaint, the award winning world leader in On Demand CMMS software, and surrounds it with PM2's inventory services to bring you a 360° solution. Coupling PM2 services with eMaint results in a seamless management system that is easy to use, easy to understand, and accurately reflects your inventory in a way that can feed right into whatever reporting system you choose. This marriage of function and service comes complete with integrated inventory and asset management and preventative maintenance functionality. Just like all of our other service offerings, this flexible, configurable solution can easily be tailored to your unique needs.
Because we understand that every day your solution isn't implemented costs you money, PM2 Control Center can be up and running in days rather than months and is delivered with award winning world class support services and an amazingly affordable price.
You can only get this 360° solution from Professional Materials Management (PM2). Call PM2 today and let us show you new and innovative ways to save money through tighter management and deeper inventory knowledge.